Click here to view original web page at m.braves.mlb.com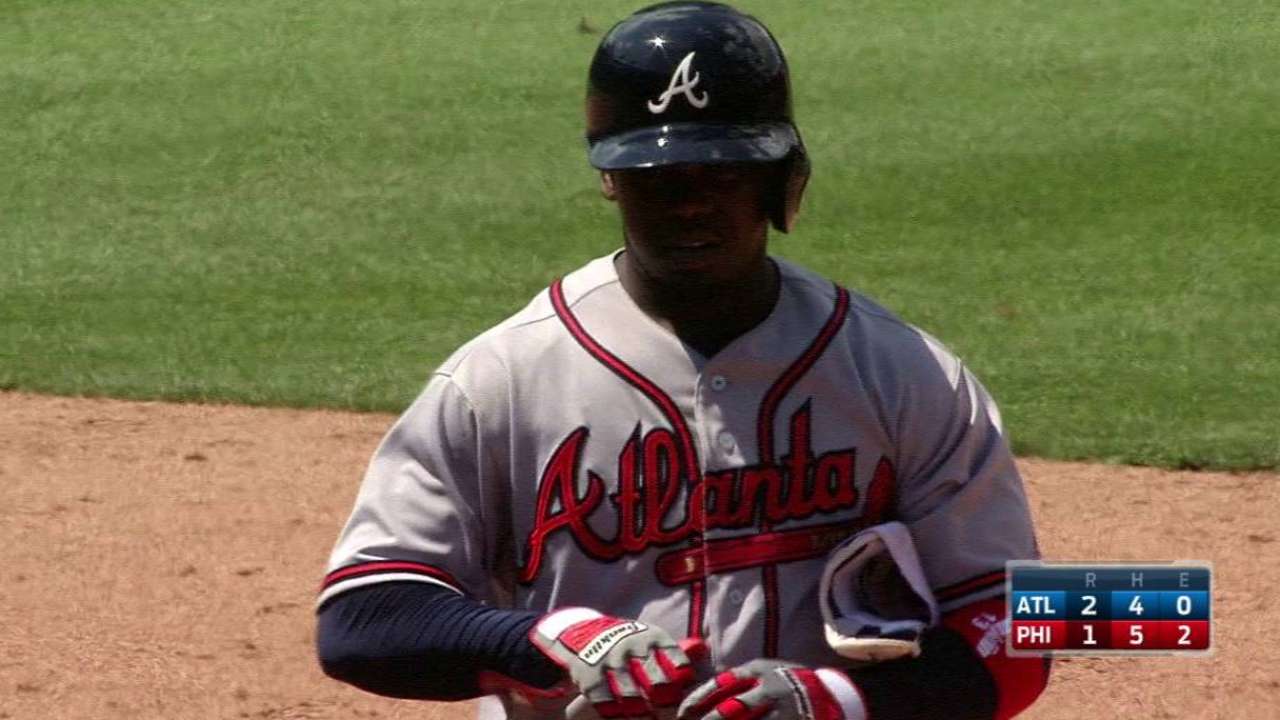 "What can you say about Freddy?" Phillies manager Pete Mackanin said. "He needed a couple of hits. He got them, and the home run was obviously huge."
Jeremy Hellickson and Tyrell Jenkins traded and evaded jams, as each starter put runners in scoring position in three innings apiece, but both also exited the game with just one earned run each -- and without factoring into the decision. Jenkins, filling in for Julio Teheran, was lifted after only 64 pitches and 4 2/3 innings in his first MLB start. He'd yet to allow a run when manager Brian Snitker pulled him, but Ian Krol immediately allowed an Odubel Herrera RBI double to score his inherited runner and tie the game at 1.
"He did a great job stretching the game that far," Snitker said. "I kind of felt it would be unfair to him in that last matchup when he was on his last legs."
Hellickson continued to increase his trade value in what was likely his second-to-last home start before the Aug. 1 non-waiver Trade Deadline. Despite walking a pair in the third and surrendering four hits, Hellickson made it through six innings, allowing only one earned run.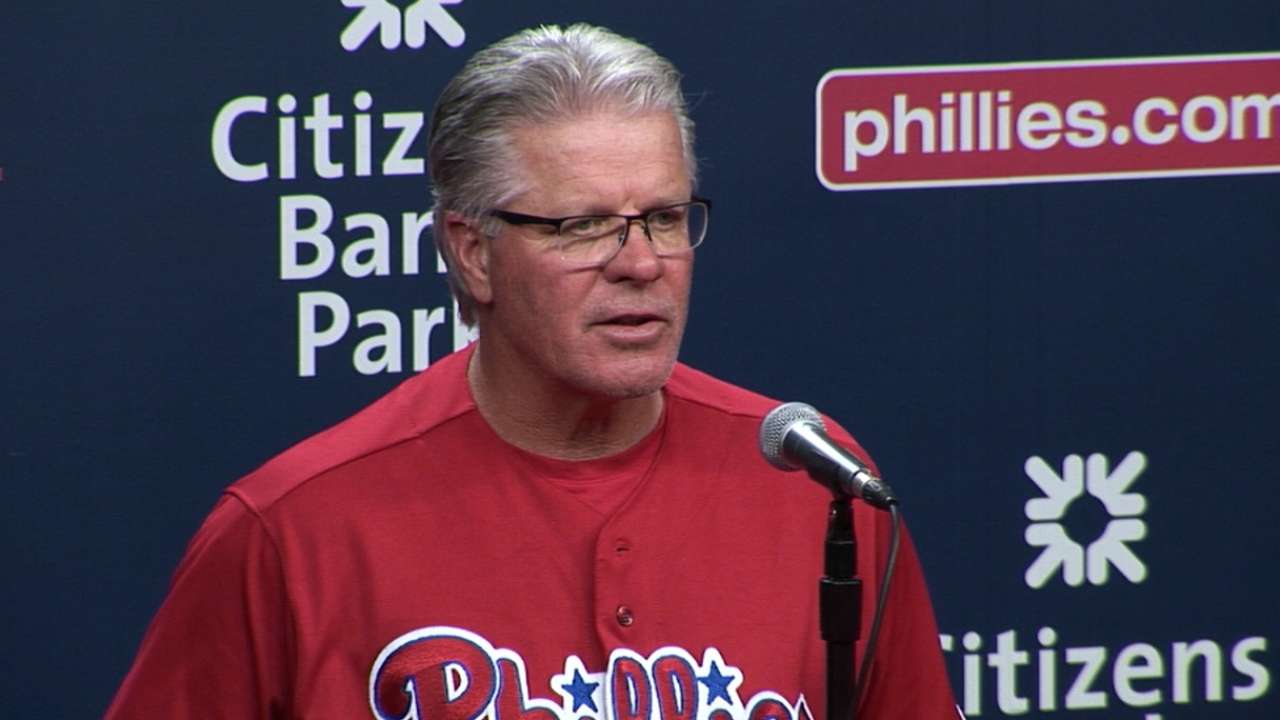 MOMENTS THAT MATTERED
Cherry Garcia: Adonis Garcia was having his best game in a month before he stepped into the batter's box in the eighth inning. He had singled and doubled in his last two at-bats. Then, he ripped a Hector Neris splitter down the left-field line to score Jeff Francoeur and give the Braves a momentary 3-2 lead. It was Garcia's ninth career three-hit game and the first that included at least two extra-base hits.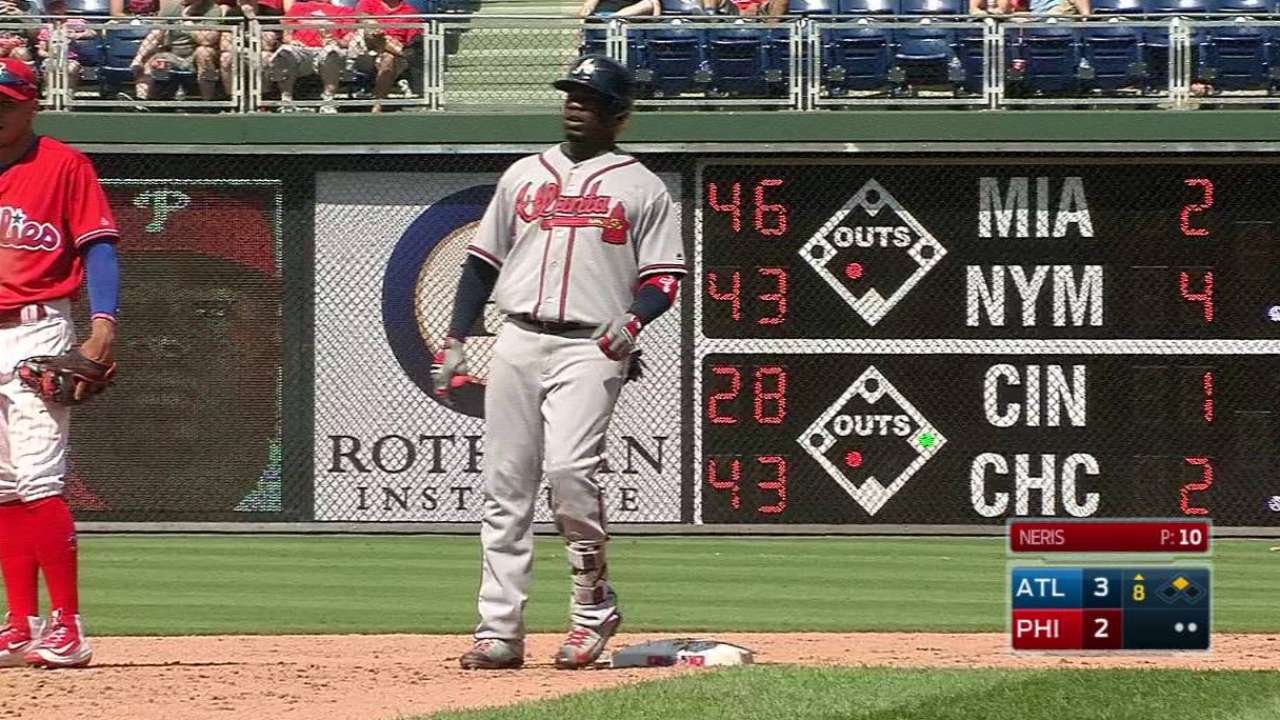 Fourth (in a row) of July: Maikel Franco became the first Phillie to homer in four consecutive games since Ryan Howard did so in September 2012, taking Braves reliever Chris Withrow deep in the sixth inning. Franco has a chance to tie the record for most consecutive games with a home run on Thursday. Four different Phillies have hit homers in five straight games, and Chase Utley did so twice during the 2008 season. More >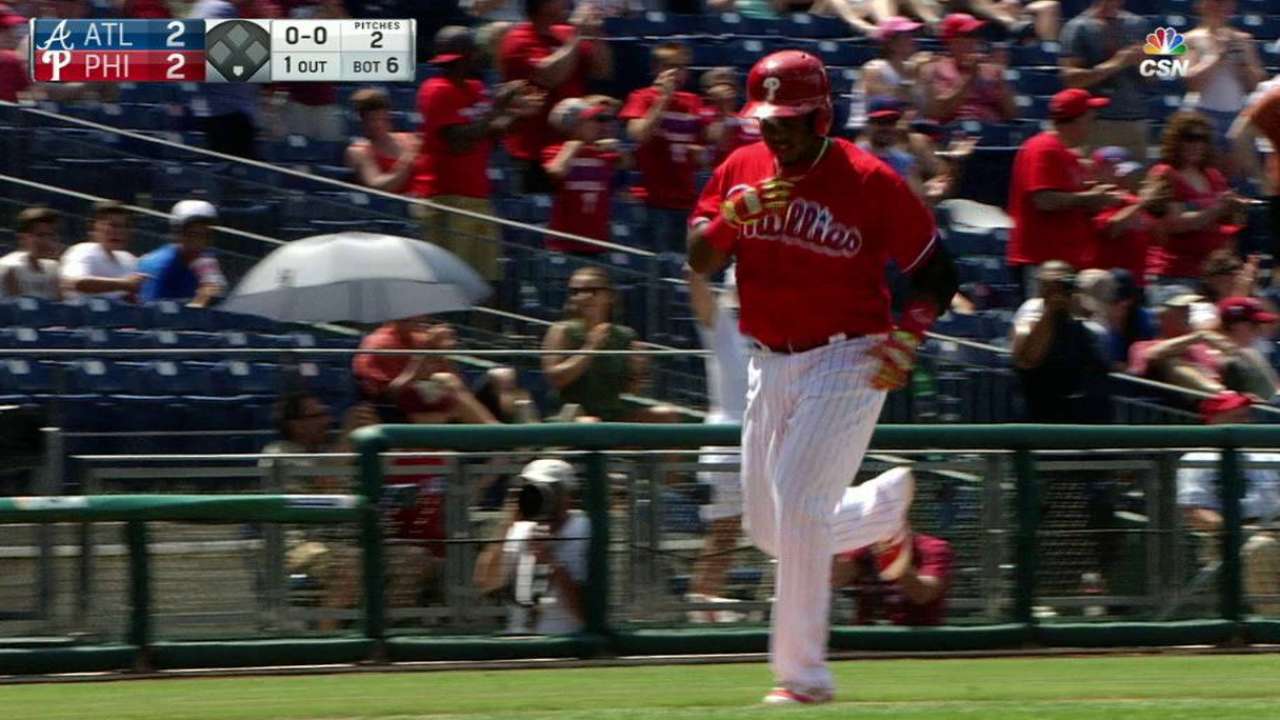 Frenchy firing: Since Francoeur debuted in 2005, it has been no secret to Major League baserunners that he has a cannon for an arm. Francoeur entered the game leading all MLB outfielders in assists over the last 11 seasons with 117. (Teammate Nick Markakis is second with 100). He added his 118th in the fifth inning. Phillies third-base coach Juan Samuel waved Galvis home on a Cesar Hernandez single to left field. But Francoeur fired a rocket to the plate and A.J. Pierzynski applied the tag on a halfhearted slide from Galvis. Hernandez did come around to score that inning for the Phillies' first run, but Francoeur's throw cost the Phils a chance to take the lead.
Jenkins, who was backing up home on the play, waited on the top step of the Braves' dugout for his left fielder as he came off the field.
"That was the first time I'd seen Frenchy really put something on it and throw a guy out," Jenkins said. "But no one else was surprised but me."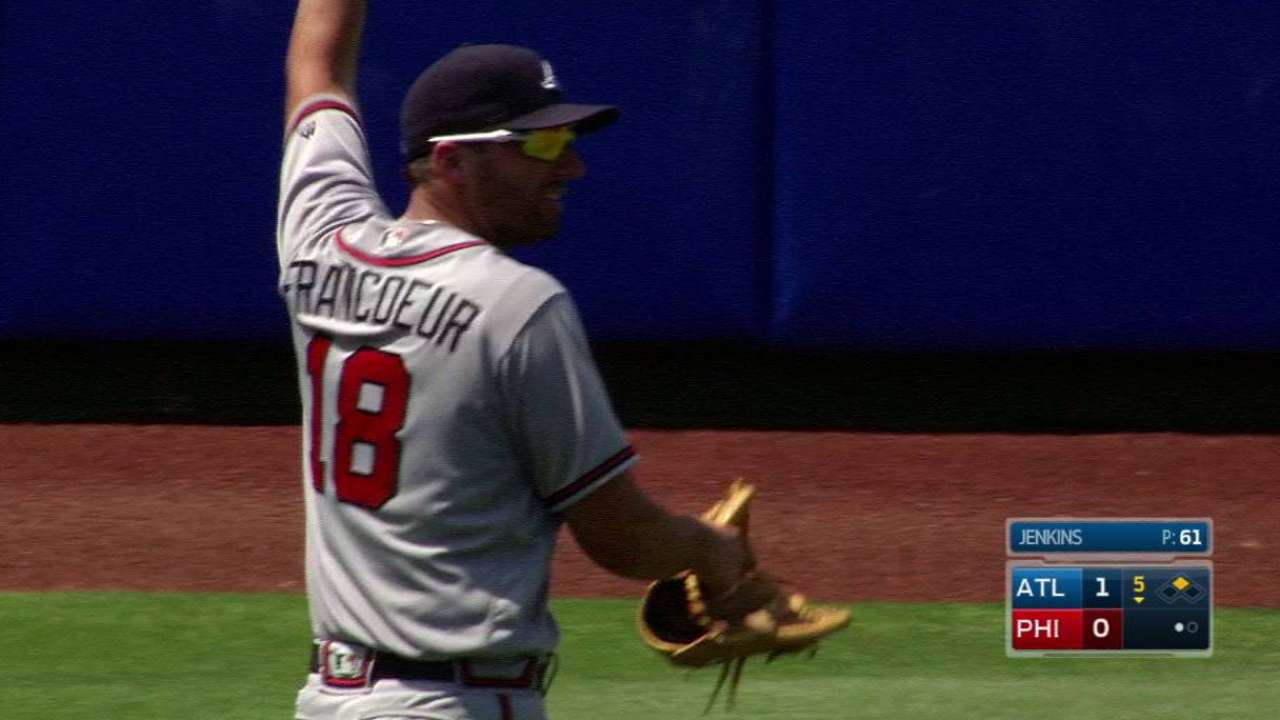 Possibly the person who should have been the least shocked was Samuel. He was Francoeur's third-base and outfield coach in his season with the Phillies. Now Francoeur has some bragging rights over his former coach.
"I was pumped when [Galvis] did go," Francoeur said. "Even better now because Juan Samuel, I can hold that over his head for a long time."
"A lot of really good things today," Snitker added. "It's a shame, you fight like hell to win a game like that. The guys, you talk about leaving it on the field, they did. Frenchy's play, Adonis coming up big. It's a tough one to lose."
Jenkins' first start a success: Snitker said his spot starter wasn't likely to give him many more than 75 pitches. Jenkins didn't, getting pulled after 64. But he did exactly what Snitker had wished, going "as hard as he can for as long as he can." Making his first Major League start, the 23-year-old Jenkins got through 4 2/3 innings before being lifted for Krol.
"To give the team what they needed on short notice was pretty good," Jenkins said. "Next time, whatever the role may be, I'll go out there and be even better."
That next time will likely be back out of the bullpen. Snitker said as of now, Jenkins will return to a relief role, though he has high hopes for future starts from the 23-year-old. More >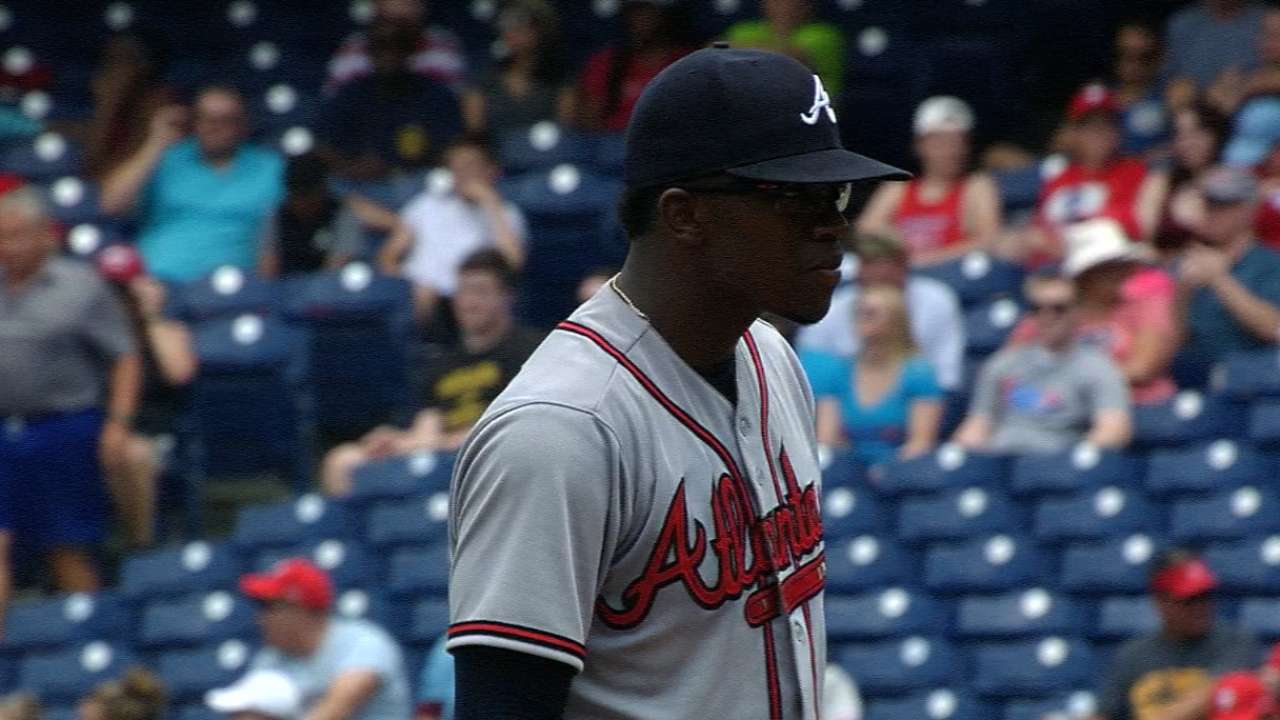 HIGH NOTE FOR HELLICKSON
Hellickson provided the Phillies with a reliable right arm for the entire first half of the season, and his start Wednesday was no different. Hellickson gave up just two runs (one earned) and had two separate stretches where he retired seven batters in a row. In his final four starts heading into the All-Star break, Hellickson posted a 2.16 ERA and a 0.96 WHIP. He could be valuable trade piece for the Phillies by the end of the month, but for now, Mackanin is happy to have the 29-year-old in his rotation.
"He's really stabilized our rotation," Mackanin said. "He gives you a good six, seven innings sometimes. He throws strikes, and he's done a hell of a job for us."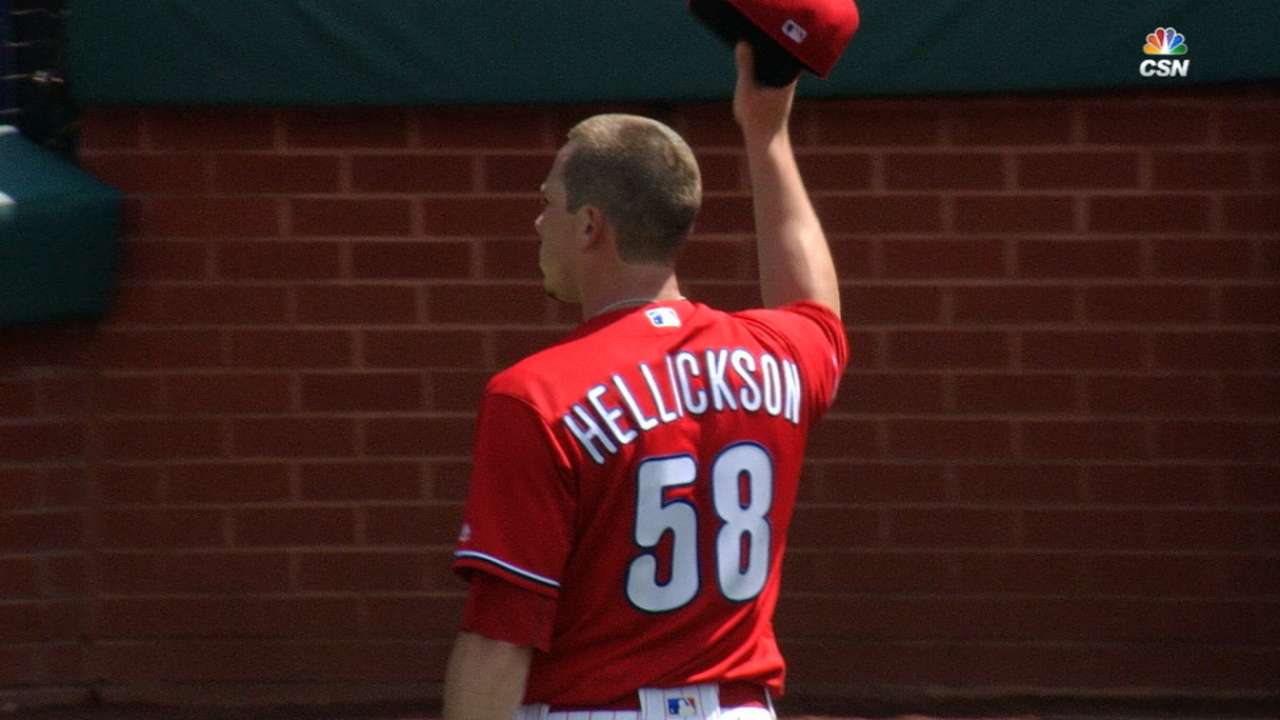 WHAT'S NEXT
Braves: Atlanta heads to the Windy City, where it was originally scheduled for only a three-game series against the White Sox. But thanks to an April 30 rainout, the Braves will be spending what was supposed to be an off-day playing the Cubs at 8:05 p.m. ET. Lucas Harrell (1-0, 1.50) will make his second MLB start since 2014, facing the Cubs' Jason Hammel (7-5, 3.45).
Phillies: The Phillies begin a four-game series against the Rockies on Thursday night at 8:40 p.m. ET in Denver. Adam Morgan will be on the mound making a spot start for Philadelphia in place of Aaron Nola. Thursday's game will mark the first meeting between the Phillies and Rockies since May 31, 2015.
Stephen Pianovich is a contributor to MLB.com and covered the Phillies on Wednesday.
Evan Webeck is a reporter for MLB.com and covered the Braves on Wednesday.
This story was not subject to the approval of Major League Baseball or its clubs.
Click here to view original web page at Braves drop finale despite Garcia's 3 hits